This page is dedicated to conceptualizing characters in a post-apocalyptic world. The following is for role playing game characters.
There are five major factions that you can join or have some truce with: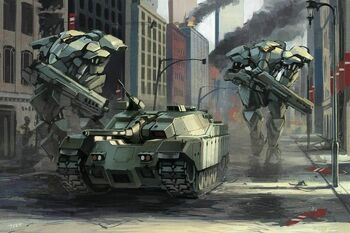 Droids are robots, androids, and any AI tech in the wasteland. They are remnants from the old-world, most of them are connected to The Cloud, and under its influence. You may reprogram a droid, but be sure they do not link to The Cloud. Will need Robotics + 8 to bypass automatic linking to The Cloud. The Cloud has its own agenda. With special skill and research, you may be able to modify and/or defeat The Cloud.
The Nomads
Edit
The Nomads are scavenger gangs with a lot of in-fighting. There are several nomad gangs throughout the Wasteland: